Colleges and Universities by Location
Are you looking to study in a particular area of the country? Maybe you want to stay close to home. Maybe you just want to try out another part of the country. Our database of over 11,000 colleges, universities, and post-secondary schools in America allows you to view campus locations in the specific state, county, or town that interests you. Select a state from the below map to view a regionally-targeted directory of colleges, universities, and post-secondary schools...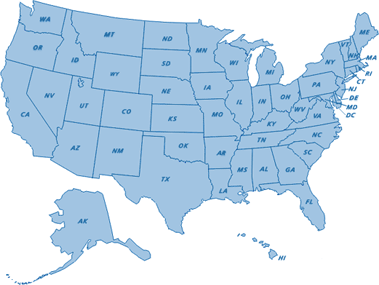 Even if you don't have a location in mind, we can help you identify potential candidate locations based on the campus setting that best suits your lifestlye. Begin your college and university research without a specific location by choosing the campus setting you prefer...
Rural
Colleges and universities with campuses in small towns and rural areas that are far from the hussle and bussle of city life.
Suburban
Campuses located in larger towns and small cities that have a small-town feel while maintaining proximity to the cultural and entertainment offerings of nearby cities.
City
Located in big cities, many of these campuses share their community with other colleges and universities, as well as public recreation and commercial areas.
If you're not looking for an institution in a particular locale, or if you've arrived at this page by error, we encourage you find a college or university by selecting other criteria. Begin your research from the college and university homepage where you'll have the opportunity to easily navigate a list of over 11,000 institutions by selecting a targeted location, name, degree, or affiliation.